Fendt is a well-known farm equipment brand with more than 80 years of being known for high-quality and powerful tractors and other equipment. Although Fendt is best known for its premium high-horsepower tractors, Fendt also produces other products, including combines, telehandlers, forage harvesters, balers, planters and applicators.
Fendt has a very strong market share in Germany, and it consistently ranks among the top for brand satisfaction by German farm equipment dealers. Fendt also ranks among the top for DLG's farmer survey regarding brand strength and loyalty, brand awareness and positioning.
Fendt History
Fendt traces its roots back to 1930 when it sold the Dieselross, the first European six-horsepower small tractor featuring a mower and mounted plow. In 1995 Fendt made waves in the farm equipment world when it introduced the 926 Vario, the world's first high-horsepower tractor with step-less Vario transmission, at Agritechnica.
Fendt was acquired in 1997 by AGCO Corporation, a publicly traded farm equipment manufacturer with sales of over $9 billion. AGCO is headquartered in Duluth, Georgia, and it has operations around the world. AGCO products are sold through five core brands: Fendt, Challenger, GSI, Massey Ferguson and Valtra. AGCO products are made available globally through 3,150 independent dealers and distributors in more than 140 countries worldwide. Read more about Massey Ferguson (Where Are Massey Ferguson Tractors Made?)
View AGCO brand dealers:
Over the years, Fendt has expanded its product line. In 2002 it added Fendt harvesting equipment, including the C-Series combine, round balers, and square balers. Over the past two decades, Fendt has improved its signature Vario tractor by adding more horsepower and functionality.
Source: Fendt.com
Notes: Early Fendt tractor delivering goods
Growing The Global Brand
Fendt's sales are predominately in Europe (92% of total sales, 9% market share in Western and Central Europe). The German and French markets represent about half of its European sales.
Over the past few years, Fendt has made a more pronounced marketing effort in North America. Fendt had one of the largest displays at the 2021 Farm Progress Show in Decatur, Illinois, where it showcased the latest Vario tractors and its Ideal combine.
Fendt Sales By Region (2018)
Source: Fendt.com and Equipment Radar
Notes: Fendt's sales are mostly in Western Europe. Over the past few years, Fendt has grown its presence more in North America.
Fendt Display At Farm Progress Show 2021
Source: Equipment Radar
Notes: Fendt had one of the largest displays at Farm Progress Show 2021
Fendt Factories
Most of Fendt's manufacturing is in Germany. Its signature high horsepower tractors are produced at the Marktoberdorf, Germany facility. Fendt's high-horsepower combine is manufactured at its Breganze, Italy facility. Fendt also has two manufacturing locations in the United States.
Several of Fendt's manufacturing facilities are located within strategic proximity of other AGCO brands' facilities to achieve supply, procurement and shipping synergies. AGCO has a medium-term goal of expanding its operating margins by combining procurement and transportation costs among all the brands.
Germany
All product lines are made in Germany
Marktoberdorf: Main high horsepower tractor facility
Italy
Breganze: High-power combine, the Fendt IDEAL, and Fendt's 6 shaker models
United States
Jackson, MN: Tracked tractors and tracked drives for harvesting machines
Hesston, KS: Big balers
Fendt Tractors
Fendt 1100 Vario MT
Fendt 1000 Vario
Fendt 900 Vario
Fendt 800 Vario
Fendt 700 Vario
Fendt 500 Vario
Fendt 300 Vario
Fendt 200 Vario
Fendt Combines
Fendt Ideal Combine
Fendt L-Series Combine
Fendt E-Series 5225 Combine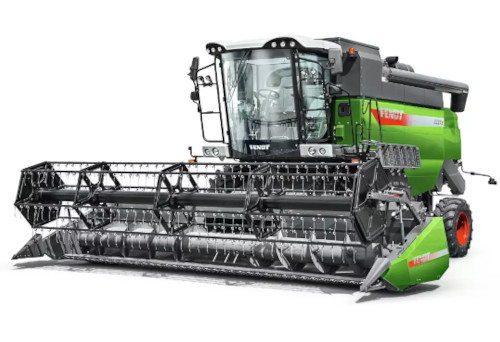 Fendt E-Series 5185 Combine
Fendt C-Series Combine
Fendt Vario - A Game-Changer
Since its beginning, Fendt has always brought to market innovative technological developments and set new milestones for agricultural equipment. Fendt engineers created the first tractor with a continuously variable drive: the 1995 Fendt Favorit 926 Vario. This tractor revolutionized agricultural technology because it combined the efficiency of a quick shift gear with the advantages of a continuous drive.
"We developed a solution to soundproof the pumps with a flexible mounting system," reminisces gear developer Richard Heindl, who has worked on the Fendt Vario transmission. "I personally have a farming background and was fascinated by the idea of a tractor that just drives – at any speed, uphill or downhill, backwards or forwards, without juddering nor loss of traction, all without switching gears. "The idea is that the operator should be able to focus on what's really important; the work on the field. We at Fendt were always convinced that our transmission was a winner. The project was kept secret for a long time. We were very proud when we were finally able to announce the first continuously variable transmission gearbox. Because we knew that it would change agricultural technology forever."
Source: Fendt.com
Notes: Fendt's Vario transmission was a major game-changer when it was released.
Find Similar Articles By Topic
#agriculture #Agco #tractors #combines #Fendt
Comments